How to reset Acer password if you don't know it?
The netbook is redefined with the arrival of the Acer Aspire computer and many people like it. Most of them intall Windows 7 Operation System. As you know, a logon password should be created to protect your Windows 7 user account. Sometimes, you lost Windows 7 logon password, how to reset it on your Aspire laptop? E.g. Acer Aspire One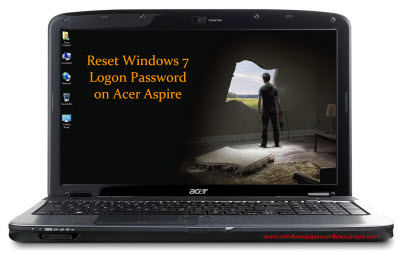 Notes:
1. If you don't have created a password on Acer netbook, you may be insterested in this tutorial: " How to Create A Windows 7 Logon Password?"
2. If you forgot Windows 7 User password, you have 2 methods to retrieve it. One is below steps, another is this guide: " Reset Windows 7 Password With a Password Reset disk that was created before you forgot Password "
About Acer Aspire
Aspire is a series of personal computers by Acer Inc. aimed at the casual household user or for small business use. The Aspire series covers both desktop computers and laptops. Acer developed the series in order to cover from essentials to high performances.
How to Reset Windows 7 Password on Acer Aspire?
Just follow below steps to recover your Acer PC password, it will only take your few minutes.
1. Login another computer that you have access, download Windows Password Recovery Tool Professional, install and run it.
2. Burn a Aspire laptop password reset disk, you can use CD/DVD or USB Flash Drive. I recommend USB if the locked Aspire laptop supports it.
3. Connect the password reset disk with the locked Acer computer, Press "Del" while the computer just start, then go to bios setting to boot computer from the USB Flash Drive, reboot the computer to load the program.
4. Select the user account which you lost itslogon password, click "reset" button to begin resetting password.
5. A message box will pop up, just click "Yes", then the user's password will be hacked.
6. Disconnect the password reset disk, and reboot Acer PC. You will login Windows 7 without password.
Screenshots on resetting Aspire Computer Password
Finally
Acer Windows 7 Password Recovery is not a difficult thing, you don't need to become a expert. Above experiment was carried out under Windows 7, but this tool also supports Windows XP, Vista, 2008, 2003, 2000.
Tips:
1. You can create a Aspire Password Reset disk before your lost Windows 7 Account password.
2. Keep in mind that this software can be only used on your own computer, never try to use it to hack other person's login password without permission. Otherwise, you will be caught by police.