Are you using Dell netbook? As many statistical analysis report said, Dell takes a large percent of laptop market share. You, me and he might be using it. Usually, We may create a user password to protect our Dell laptop. Unfortunately, we often forget the password then can't access the computer. This article will tell you how to regain Dell laptop password.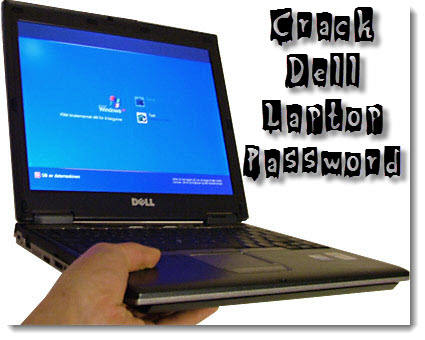 About Dell
First, Let us know more about Dell laptop.
Started in 1984 by Michael Dell, in the late eighties they became the first computer firm to offer customers next day, on site service. They gained market dominance thanks partly to the popularity of their competitively priced Inspiron and Latitudes. Since then they've branched out into the lucrative gaming market with the release of their cutting edge gaming XPS line, the launch of the no frills business line-up Vostro. Whether you like their configurable Dell laptops or not, the company is positioned securely in the market and their brand is here to stay.
How many types of passwords Dell Laptop has?
We can use different passwords to protect our Dell laptop. Such as: the Hard drive password (master and user), the Supervisor password (Bios), the Power-on password, and the Operation System Password.
Note: This article is only about Windows account password (If it is running Windows OS), but not about others. You can see other password recovery solution on "Different Types of Computer Password".
How to Regain Dell Laptop Password?
Step 1. Access other PC which isn't locked, download the Windows Password Recovery Tool Enterprise, install and run it.
Step 2. Burn a password reset disk. You can choose CD/DVD or USB.
Step 3. Connect the nearly created disk with the locked Dell laptop, config bios setting to make sure it boot from the password reset disk, reboot the computer.
Tips: 2 useful guides for bios setting.
1. How to set BIOS to boot from the USB Flash Drive?
2. How to set BIOS to boot from the CD/DVD-ROM?
Step 4. Choose the user that you forgot its password, click "reset" button to begin regain its password.
Step 5. A message box will pop up, just click "Yes", then the user's password will be cracked to blank.
Step 6. Disconnect the password reset disk, and restart Dell laptop. You will login Windows with a blank password.
Screenshots on cracking Dell laptop Password
Finally
Cracking Dell Password is easy with this password cracker tool. It supports all versions of Windows OS, including Windows 7, XP, Vista, 2008, 2003, 2000.
Tips:
1. You can create a Dell laptop Password Reset disk before your forget password.
2. Keep in mind that this tool can be only used on your own PC, never try to use it to hack other person's computer password without permission. Otherwise, you will be punished by law.
3. The Windows password Regain Tool can help you to retrieve forgotten password. You can download the free tried Demo on clicking below link.
Article source: http://www.windows7password.net/go/winpwd/