Lost Powerpoint password? Can't remember ppt file open password? This guide will help you to recover ppt password step by step.
PowerPoint Password Recovery 5.0 is an easy-to-use tool designed for recovering the lost or forgotten  MS PowerPoint presentations password. Passwords to modify are recovered in just seconds! For passwords to open, PowerPoint Password Recovery 5.0 offers three different searching methods: advanced dictionary attack, brute-force attack, and advanced brute-force with mask attack.. MS PowerPoint versions 2002-2007 are supported.
Features:
MS PowerPoint versions 2002-2007 are supported Updated
Instantly recovers all other types of PowerPoint passwords
Program automatically saves password search state and can resume after a stop or a crash
Patterns can be used to minimize search time if any part of the password is known
Support for simultaneous processing of several password recovery projects. Several attacks (using different attack profiles) can be conducted on one file simultaneously
Includes a Wizard for easy setup of password recovery attacks
Free updates during 1 year.
How to use
Step1: Click "Open" button of the File Name to browse the full path of the PowerPoint file.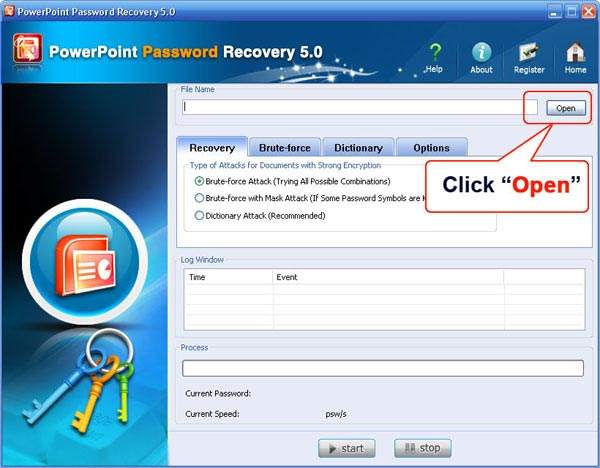 Select the target PowerPoint file in the Open File window and click "Open".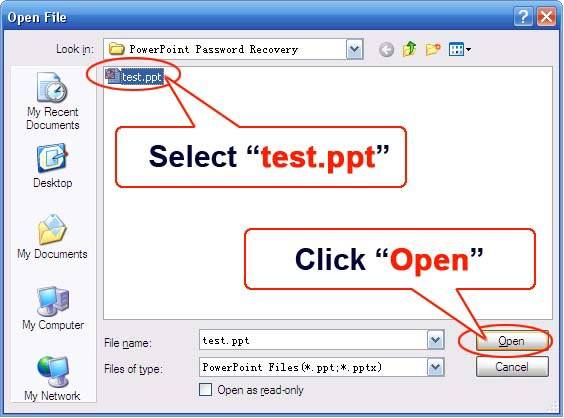 Step2: On the "Recovery" tab, select "Brute-force Attack (Trying All Possible Combinations)".

Step3: Click "Start" button in the Menu to initiate the program.

Step4: Some time later, a message box pops up to you, showing the User Password expected. Click "Remove All Passwords from the File" to remove all the restrictions placed on the PDF file. Click "OK".