Ok so you lost your password to your log-in screen first of all. You tried to figure it out but you couldn't (You haven't been on it in several months). Anyway you restarted your PC and pushed the ThinkVantage blue button and pushed F12 then to category called password. To make a long story short You thought You could log-in by making a ThinkPad password… You want to know how to erase ThinkPad password… You don't know how. It won't let you do anything. You also don't know how to reset your log-in or start up screen password.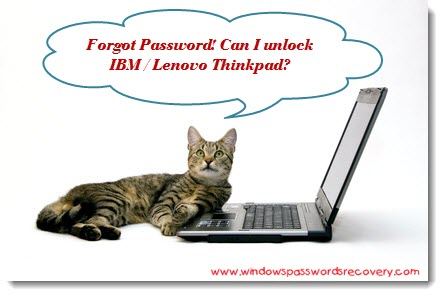 What is ThinkPad?
ThinkPad is well known for quality, reliability and innovative security technologies for business computing, "commented Tom Ribble, director, Worldwide ThinkPad Product Marketing, Lenovo. "We've always built tough laptops that can weather extreme conditions from hiking the rainforests of the Amazon to flying in space. You don't need a PC that looks like a tank to excel in harsh environments, and unlike many of our competitors, we don't put an extra charge on toughness."
How many types of passwords ThinkPad has?
To lock a ThinkPad, you can use different passwords. As many as four passwords may be needed for any ThinkPad computer: the Power-on password, the Hard drive password (master and user), the Supervisor password (Bios), and the Windows Password(If it is running Windows OS).
This article will only show you how to unlock windows password. If you want to know how to unlock other passwords of ThinkPad, read this guide: Different Types of Computer Password.
How to Unlock IBM / Lenovo ThinkPad Password?
Step 1. Go to any other computers that you have access and download Windows Password Recovery Tool.
Step 2. Install and run that application program.
Step 3. Burn a password reset disk to unlock your ThinkPad. A CD/DVD disk, or a USB Flash Disk, depend on the locked ThinkPad support which type.
Step 4. Boot the locked ThinkPad from the password reset disk.
Note: You may need to config bios setting to set it boot from the password reset disk. The 2 articles can help you.
1. How to set BIOS to boot from the CD/DVD-ROM?
2. How to set BIOS to boot from the USB Flash Drive?
Step 5. Select the user name, and click "reset" button.
Step 6. Confirm you action, then that user's password will be reset to blank.
Step 7. Take out the password reset disk, and reboot your ThinkPad. You will access Windows OS without password.
Screenshots on unlocking IBM / Lenovo ThinkPad Password
Finally
Now you don't need to worry for locking IBM / Lenovo ThinkPad, this tool can help you. It supports all versions of Windows OS, including Windows 7, Vista, XP, 2000, 2003, 2008.
Tips:
1. You can create a ThinkPad Password Reset disk before you forget password.
2. Keep in mind that this tool can be only used on your own computer, never try to use it to crack PC password without permission. Otherwise, the police will come to you into trouble.
3. This Windows password recovery program can help you to find lost password. It is popular way of getting your password back, even you don't have a password reset disk. You can download the free tried Demo on clicking below link.
Article source: http://www.windows7password.net/go/winpwd/